We provide a direct integration from Planning Pod to Quickbooks Online to assist in streamlining the tracking of financial data across both platforms without extra data entry.
Using the integration you will be able to:
Choose which existing invoices in Planning Pod are sent to Quickbooks Online
Make changes to invoices in Planning Pod that will automatically communicate to your QBO account
Apply payments manually or via a connected payment processor in Planning Pod and have those payment appropriately applied to the associated Quickbooks invoice
Track taxes on line items in Planning Pod and have that information appropriately applied and reported in your QBO account
Report on/track financial information in your Quickbooks Online account that was communicated over from Planning Pod
...and more!
Note that this is one-way sync FROM Planning Pod TO Quickbooks Online. All data will flow from Planning Pod into Quickbooks Online and all changes must be made in Planning Pod in order to update the associated items in Quickbooks.
Here's how it works:
Important Note before you begin:
Make sure you have your Quickbooks Online login information handy before you begin - it will be required to establish the connection.
Let your accountant or anyone else who has access to your Quickbooks Online account know that you are making this connection to Planning Pod. Part of the process is the creation of new accounts in Quickbooks in order to accurately track the information coming from Planning Pod.
Now that you are ready...
Step 1: Establish a connection
Navigate to your account settings by clicking on your name in the upper left corner of your screen and selecting "Settings" from the dropdown menu.
Under the Financial Settings you will see the option to "Connect to Quickbooks Online".
Follow the prompts to enter your account information and approve the integration with Planning Pod
You will be redirected to Planning Pod to complete the setup process
Step 2: Complete setup
Once the connection is established you will need to decide what to do with your existing open invoices in Planning Pod. You have three choices, and you must complete this step before the integration will begin working.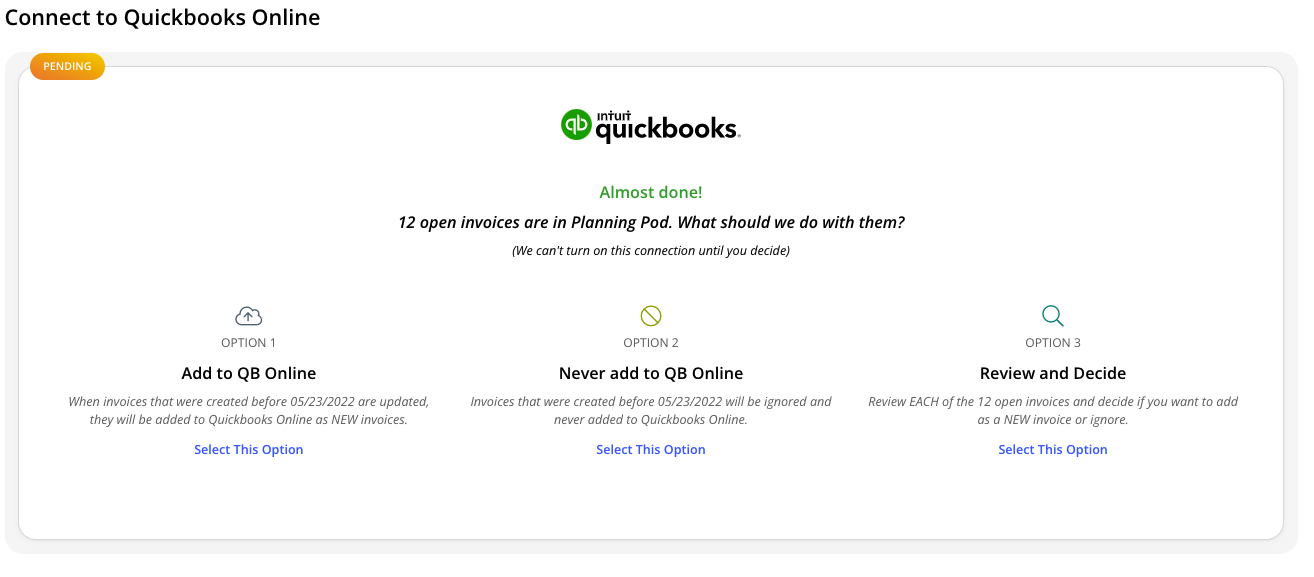 Add all open invoices to Quickbooks Online

This will send all open invoices to QBO when you make an edit to them. Note that this could create duplicate invoices in QBO if they already exist in your Quickbooks account.

Never add open invoices to Quickbooks Online

All existing invoices will not send to QBO. This will allow you to manually finish up existing invoices and have only NEW invoices sent to Quickbooks Online moving forward.

Review and Decide for each open invoice

This allows you to look at each invoice individually to decide which you would like to send when they are edited and which you would like to leave in Planning Pod regardless of updates
IMPORTANT NOTE: Once you have decided on an option and completed the connection, you will still need to make a change to an invoice in order for it to send to QBO. This will not push all of the information automatically until a change is made to an invoice.
Step 3: Review accounts
Your Planning Pod account is now integrated with your Quickbooks Online account! The next step is to review where/how the information is set to move from Planning Pod to Quickbooks.
A couple important notes:
You will need to select a bank account for payments to be allocated to.

If you are using Quickbooks Payment Processing via Planning Pod this information will have been pulled over from those account settings.
This dropdown will include all available bank accounts from your QB Online account

When establishing the connection, Planning Pod creates an Income account for all line items and a liability account for each saved tax rate in your Quickbooks account. These accounts include Planning Pod in the title so it is easy to locate the information while in your Quickbooks account.

You will have the opportunity to change the Income and Liability accounts where Line Items, Customer Deposits and Tax Rates are assigned when they import to QB Online.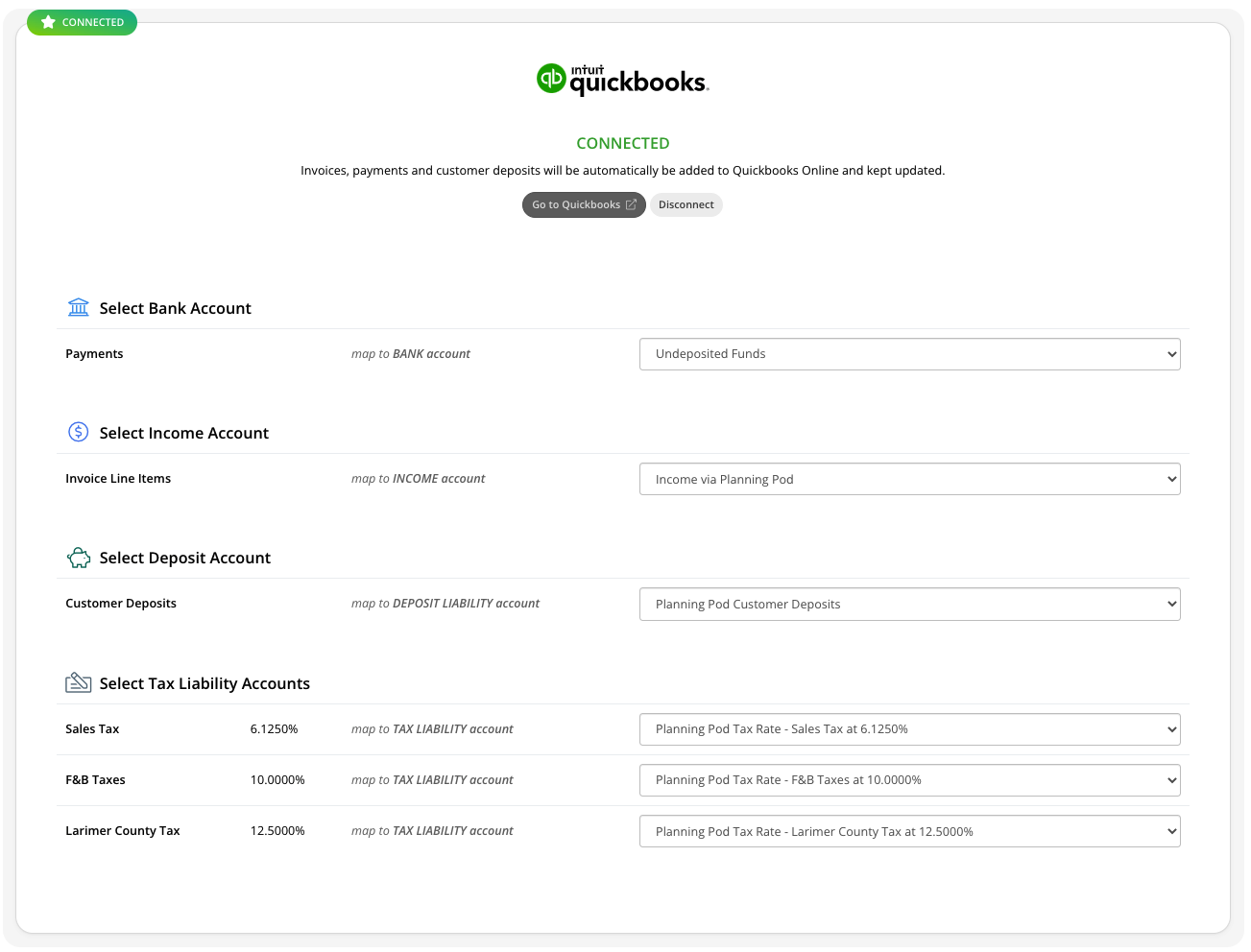 Congratulations!
Your Planning Pod account is now connected to your Quickbooks Online account and your information can flow seamlessly from our invoices to Quickbooks!